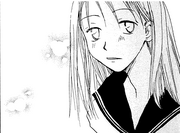 Ritsu Jinnai is the main female character in the manga Hibi Fukaku, the fourth short manga in the Hotarubi no Mori e tnakobon, created by Yuki Midorikawa.
Ritsu is the younger sister of Sou. She had been living together with her mother since their parents divorced, while Sou moved out together with their father. When they were both younger, the two siblings had a close relationship, and keeping in touch with writing letters to each other when they lived apart.
Ad blocker interference detected!
Wikia is a free-to-use site that makes money from advertising. We have a modified experience for viewers using ad blockers

Wikia is not accessible if you've made further modifications. Remove the custom ad blocker rule(s) and the page will load as expected.