Fujimura is the main male character in the manga Hanauta Nagaruru (花唄流るる lit. Overhearing a Flower Song), the first manga collection in a tankōbon short story collection of the Hotarubi no Mori e Manga, which included four romantic one-shot stories written by Yuki Midorikawa.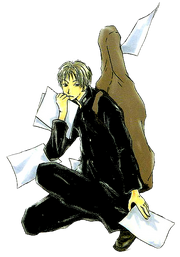 Fujimura used to play guitar well, but since he had an accident, renders his hand unable to play guitar well again. Due to this fact, he became more aggressive and seemingly hard to approach.
Ad blocker interference detected!
Wikia is a free-to-use site that makes money from advertising. We have a modified experience for viewers using ad blockers

Wikia is not accessible if you've made further modifications. Remove the custom ad blocker rule(s) and the page will load as expected.